Our Building History!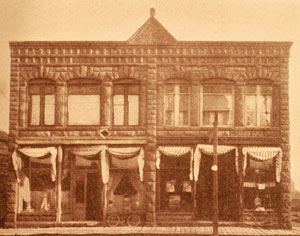 1888 and 1895: Meehan Mercantile Company (Union Block).
2005: Chequamegon Book & Coffee Co.
Two side-by-side buildings at 2 East Bayfield Street, the Union Block (large buildings were often called blocks) is typical of two-story, commercial buildings once common in Wisconsin and is Washburn's most architecturally important commercial building. The corner section was built in 1888, and the design was continued when the addition was built in 1895.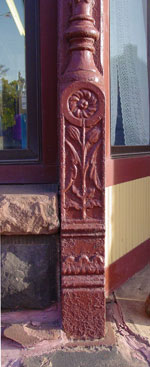 Stone pilasters appear at the ends of the building, and a center pilaster divides the two sections. Store entrances were recessed to create display space and protect customers from the snow and rain. The spacing of the window and doors on the ground floor is echoed above, creating a symmetrical front. The second floor shows more detailing, as the simple columns flanking the window support the texture producing wedge-shaped stones in the arches above. Across the top, a decorative stonework band visually connects the buildings. The rusticated stone and arches are vaguely part of the Romanesque Revival style of the 1880s but here are simplified for a commercial structure.
Originally home to the City Pharmacy and the Meehan Mercantile Company, the building was for many years the County Journal. Pieces of old typeface can still be found wedged into the cracks in the floor. The second floor was residential and also home of the Chequamegon Lodge I.O.O.F. (International Order of Odd Fellows). When renovating the building, the current owners found within the bricked-in archway connecting the two sides, a corked bottle which contained a whimsical note claiming that the cornerstone was laid "17th July 1895 by George E. Meehan-Chief Mason, Edward A. White-Grand Mortar Mixer, A. W. McLeod-Chief Hod Clerk, Mrs. Anna C. Morgan-Architect and Supervisor, signed John E. Layne – Chief Scribe."
A complete renovation was undertaken in 1995 by the current owners. The plan was to make the building usable for modern purposes, keeping in tune with the original structure. Energy efficient windows were installed using the entire, original opening in the stone. Hardwood floors were refinished – some for the first time in over 100 years – and all new plumbing and heating systems were installed. In researching the building, it was learned that one of its early uses was by a bookseller. The current owners feel the cycle has been completed, with their book business and living arrangements within the building.